Aer Lingus
Ireland's national carrier since 1936.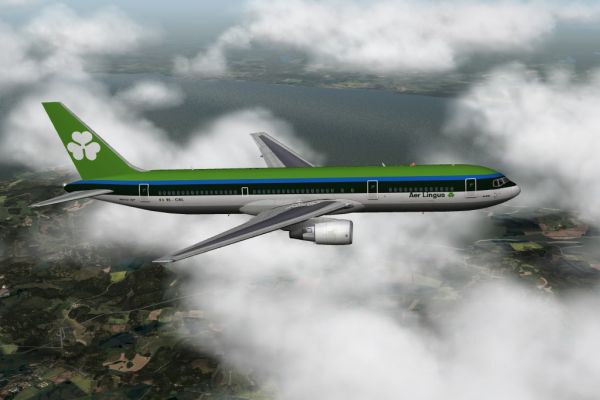 Boeing 767-300ER (Brendan Rankin / acf - XPFW)
Aer Lingus is the flag carrier airline of Ireland. Based at Dublin Airport, it operates 42 Airbus aircraft serving Europe, Africa and North America. The airline was founded in April 1936. Pending legislation for Government investment through a parent company, Aer Lingus was associated with Blackpool and West Coast Air Services which advanced the money for the first aircraft, and operated with Aer Lingus under the common title "Irish Sea Airways". Aer Lingus Teoranta (en: 'Air Fleet Limited') was registered as an airline on 22 May 1936.

In 1947, Aerlínte Éireann (en: 'Airlines [of] Ireland') was created with the purpose of operating transatlantic flights between North America and Europe via Shannon. Five new Lockheed L.749 Constellations were ordered but a change of government and a financial crisis prevented the service from starting. Aerlínte Éireann was an entirely Irish Government owned company (at this time Aer Lingus was 40% owned by the British government). In 1958, Aerlínte Éireann eventually operated it's first transatlantic service from Shannon to New York. Three Lockheed L.1049H Super Constellations were used for the thrice-weekly service.

Titles on these aircraft were soon anglicized to "Irish Air Lines" and later "Irish International Airlines". The Constellations were the first 'Aer Lingus' aircraft to feature the Shamrock as a key part of the identity. It was felt that this was the most recognizable symbol of Ireland in the U.S. market. It later made it's way to the rest of the fleet when the identities of the european and transatlantic airlines were merged as "Aer Lingus - Irish International". Dual titles were carried until 1974 when the name was shortened to it's present "Aer Lingus".

In the mean time Aer Lingus had introduced Viscounts, Friendships and in 1956 a revolutionary green-top livery. The initial version of the green-top lasted only until the introduction of the One-Eleven in 1965 but modern iterations of it (introduced in 1974 and 1996) have made Aer Lingus one of the most recognizable airlines in the world.


(The above material is licensed under the GNU Free Documentation License. It uses material from the Wikipedia article "Aer Lingus".)
Aircraft and Paint files under development - Fokker F.27-100, Service Entry | Lockheed L.1049H, 1958 | Boeing 720-048, 1966 | Paintfile without an acf - 737-248, 1978
Paintfiles

Boeing 767-300ER - Aer Lingus
Aer Lingus' short lived Boeing 767, EI-CAL.


2010-03-24 16:27:44