Supermarine Walrus Mk.1, Irish Air Corps 1939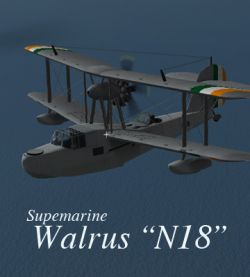 Aircraft: Supermarine Walrus Mk.1
Status: Version 1.0
X-plane version: 8.64+
About:
N18 was one of three Walrus Mk.I aircraft operated by the Irish Air Corps during the 1939-45 period. Based at Rineanna (now Shannon), they conducted neutrality patrols along Ireland's western seaboard, observing intrusions by belligerent aircraft and naval vessels, drifting mines and survivors from sunken ships.

In addition to the paint files, this package includes:
1. A modified cockpit object - front crewman and machine gun removed; rear machine gun removed; wing cut-out plugged and a few little details added.
2. A new "rods.obj". The Bristol Pegasus (and their other poppet valve engines) had four valves and forked rockers with a distinctive single pushrod tunnel. I have replaced Jaques' generic pushrod objects with a more suitable representation.
3. Modified paint files for the objects.


Download (1631KB)
---
Last Change Wednesday, 24 March 2010 16:32