Gloster Gladiator Mk1, Norwegian Army Air Service 1938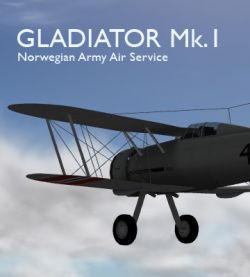 Aircraft: Gloster Gladiator Mk.1
Status: Version 1.0
X-plane version: 8.64+
About:
423, one of Norway's twelve Gloster Gladiators. The order for Gladiators from Gloster Aircraft by the Norwegian Government was placed in June 1937. From the outset it was intended that twelve aircraft would be involved, but after six Mark I's had been delivered to Oslo during August 1937 (with Colt 0.303-inch guns) it was decided to revise the Norwegian standard of preparation to match that of the British Mark II.

It was proposed to deliver the final six Gladiators in 1938 but, due to the delays in the introduction of the Spitfire that year, the Norwegian order was subordinated to that of the RAF. In the event the last six Gladiator Mk.II's ever built (N5919-N5924) were diverted from the RAF to Norway and delivered in 1939.

Norwegian Gladiators were numbered 413, 415, 417, 419, 421, 423, 425, 427, 429, 431, 433 and 435.
Download (883KB)
---
Last Change Wednesday, 24 March 2010 17:15