Supermarine Walrus Mk.1, RAAF Antarctic Flight 1947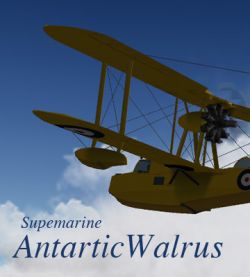 Aircraft: Supermarine Walrus Mk.1
Status: Version 1.0
X-plane version: 8.64+
About:
Supermarine Walrus, first ANARE expedition to Heard Island in 1947. This aircraft is often described as belonging to the Australian Antarctic Division, however that organization was was not formed until 1948. By that time HD874 had been wrecked in a storm.

It was recovered by the RAAF in 1980, and transported to Point Cook, restoration of the airframe began in 1993, and was completed in 2002.

Includes modified object files for Jacques Brault's acf.

Download (644KB)
---
Last Change Wednesday, 24 March 2010 17:04